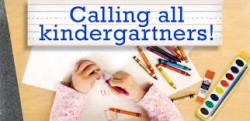 North Canton Elementary School needs to know if your child will be attending kindergarten during the 2014-2015 school year.  We will be conducting a brief kindergarten registration meeting on Friday, April 11, 2014 at 11:00 am in the library.  This meeting will be for all parents who have a child who will be at least 5 years of age on or before August 31, 2014 and plan to enroll their child at North Canton Elementary for the 2014-2015 school year.
A packet of forms and information will be available at this meeting.  These forms will need to be turned in as soon as possible (preferably before school starts).
Representatives from North Canton, the school system, and the Health Department will be at this meeting.  If you cannot attend this meeting or have any questions,  please contact the school at 646-3444.
We look forward to serving your child during the upcoming school year!
North Canton Elementary Kindergarten Staff